Dariusz Brozozowski (Dimmu Borgir) new relaease with Metal Allstar Band MASACHIST!!
September 13th, 2012
MASACHIST
"Scorned" CD 2012
(Selfmadegod Records)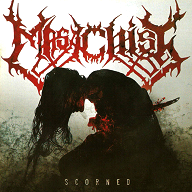 This is the second album by this all-star Polish Death Metal squad. The band features Pig on vocals (better-known as Sauron from his past works in DECAPITATED), Thrufel on lead & rhythm guitars (ex-AZARATH, ex-YATTERING), Aro on rhythm guitar (SHADOWS LAND, TORQUEMADA), Heinrich on bass (VESANIA, ex-DECAPITATED, ex-ROOTWATER) and Daray on drums (DIMMU BORGIR, VESANIA, ex-VADER, ex-PYORRHOEA and many more). The material on "Scorned" can be characterized as a precisely mechanized sonic invasion with lots of ominous background motives that mainly give an industrial touch to the songs. There are 9 crushing songs in total supported by a crystal clear yet super massive sound production. On the one hand, you can find there militarily marching themes as "Drilling the nerves", "Straight and narrow path" & "Inner void", while on the other hand, you can bump into a bunch of fiercely storming Death Metal cuts like "The process of elimination", "Manifesto (100% D.M.K.M.)" or "Liberation" just to name a few. The album has an awesome instrumental track called "Liberation Part II" as well. Sometimes I felt some kind of surrealism in their songs. If "Scorned" would be materialized on a painting then it would definitely display a post-apocalyptic vision! The cover art of Anna Rosól is also something to look and think for. I think the music of MASACHIST would be positively priced by any extreme metal music fan on the globe, but as an advice my recommendations are going at first to the fans of FEAR FACTORY, DECAPITATED and YATTERING!!! At the end I would like to express my gratitude to Marcin of Mythrone Promotion for this submission!
Tags: Artists